Kriterianya adalah :
TOP FREE NOMOR 3 di android Market & TOP NEW FREE nomor 1 di Android Market
Walaupun dari hari ke hari posisi di TOP FREE turun terus. dan sampai tulisan ini dibuat aplikasi LACAK PONSEL masih menduduki posisi nomor 18 di TOP FREE Android market
Untuk download klik badges di bawah:
The criteria are:
TOP FREE NUMBER 3 on Android Market & TOP NEW FREE number 1 in the Android Market
Although from day to day position at the TOP FREE fell steadily. And as of this writing, Lacak Ponsel application still number 18 position in TOP FREE Android Market
To download click badges below:
Silahkan lihat gambar di bawah. Bukan hasil sotosop (baca: photoshop) tapi hasil screenshoot asli ya.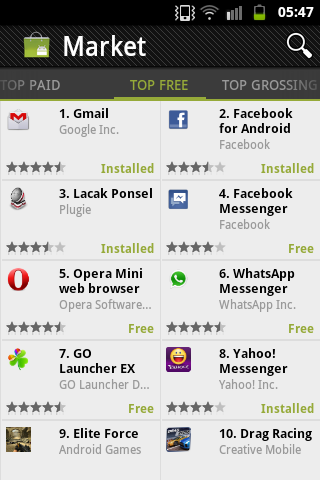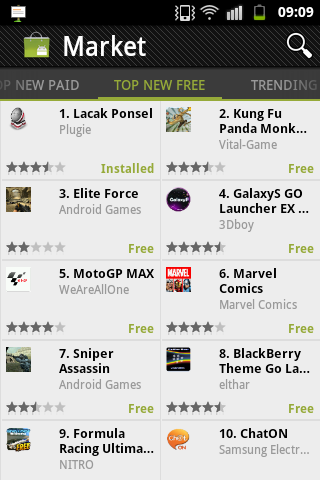 Berikut adalah posisi yang pernah dicapai oleh aplikasi LACAK PONSEL yang merupakan Aplikasi Android Terbaik dari Indonesia :
1. Peringkat ketiga TOP FREE dari tanggal 25 oktober 2011 s.d. 27 oktober 2011
2. Peringkat PERTAMA TOP NEW FREE dari tanggal 20 oktober 2011 s.d. 7 November 2011
Please see picture below. Yes this is the original screenshot.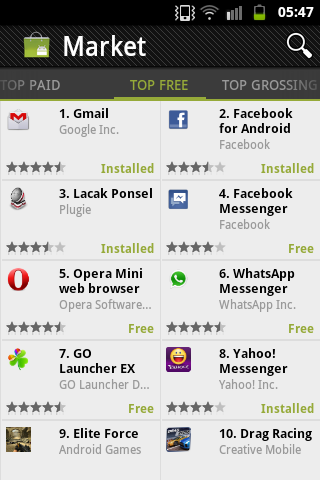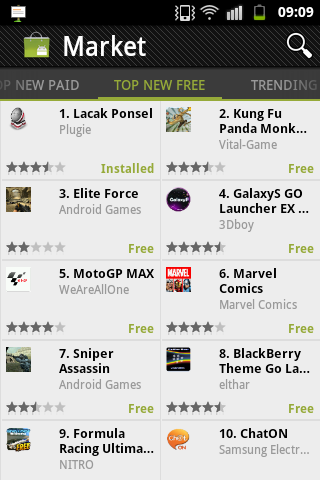 Here is the position ever achieved by the Lacak Ponsel application which is the Best Android Applications of Indonesia:
1. FREE TOP ranked third from 25th October 2011 till 27 October 2011
2. Ranked FIRST TOP NEW FREE from 20 October 2011 till 7 November 2011