FOUR STEP TO USE CASE REGISTER APPLICATION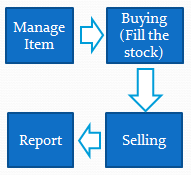 Manage Item
Before you can sell, you need to input the item by accessing Manage Item menu.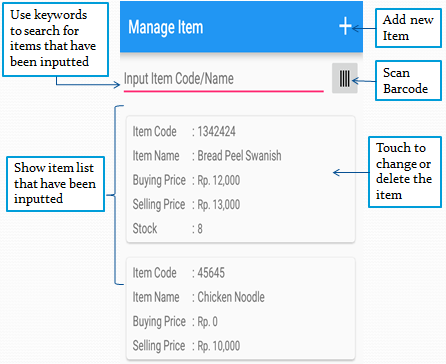 Add Item
If the item stock will be counted in report, then check "Count stock when transaction" Option
Example of Items which need to be counted: Tea Bottle, Crackers etc.
Item example that can not be counted: Chicken Noodle, Ice Orange etc.
Or you can decide based on your business need.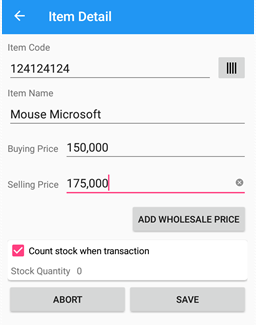 You can import stock data from XLS file that you can get from SDCard / memory internal, Google Drive or others via Internet. To save excel file in XLS format, choose Save As -> Excel 97 – 2003 Workbook (*.xls) in Microsoft Excel
XLS File that will be imported should use the following column :
Item Code | Item Name | Unit | Buying Price | Selling Price | Count Stock
The first row is column name. Count stock column is filled with Yes or No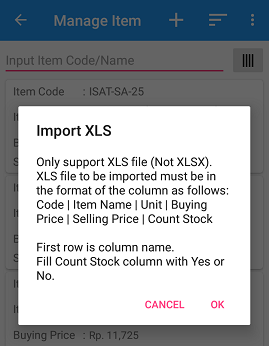 XLS file sample to import item can be downloaded here
Buying (Fill the Stock)
Go to Buying Menu to fill the stock. If you check Count Stock option in Manage Item for this item, then the number of stock will increase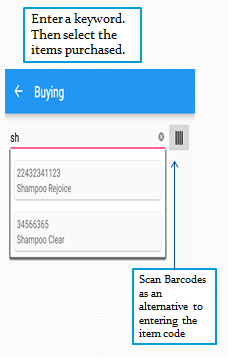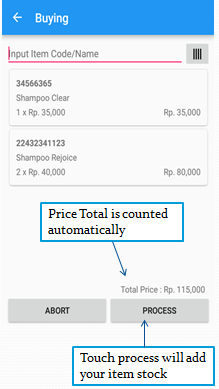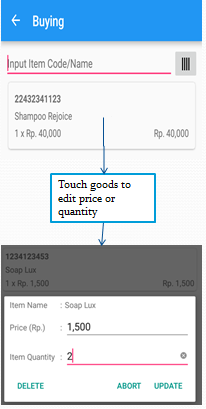 Selling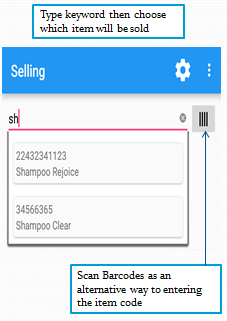 Report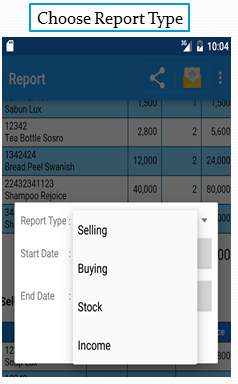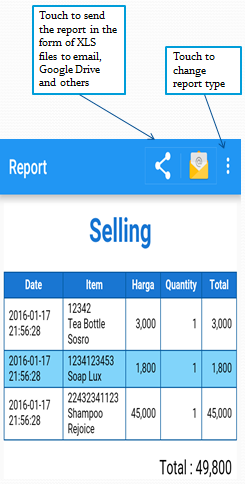 XLS file report example :

FREQUENTLY ASK QUESTION
What if the customer bid price of goods?
You can change the price of goods when sales as agreed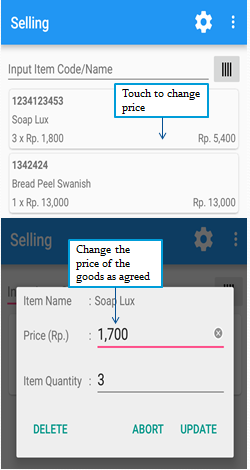 How to use wholesale price that different with normal price ?
Please follow the step below to add wholesale price:
Go to Manage Item Menu. Choose item that you want to add wholesale price. Then touch Add Wholesale price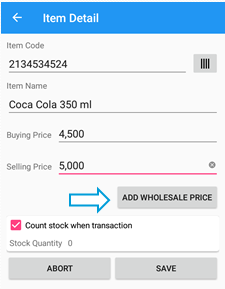 Input Minimum Quantity and wholesale price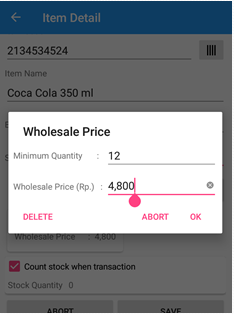 Wholesale price can be seen below Add Wholesale Price button. You can slide the wholesale price list to the left or right.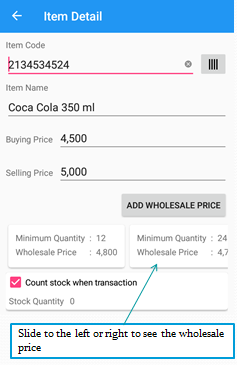 When you do selling transaction then selling price will be changed automatically based on item quantity. For example, Coca Cola has normal price 5,000. When you change item quantity to 13, then selling price will be changed to 4,800 based on wholesale price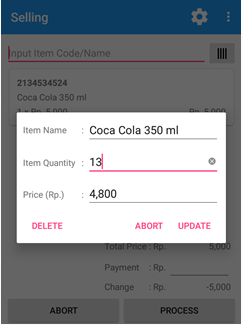 What the application does require an internet connection ?
Data is saved inside your local handphone, so you can do transaction even you don't have an internet connection.
What if the phone is lost or I want to change handphone ? Will I lose the data ?
There is Backup / Restore function. You can backup the data to the server and you can restore anytime you want. Even you can restore to other hand phone as long as you use the same login username.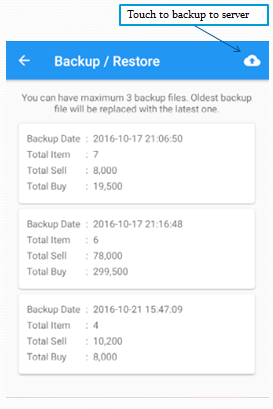 How the search method used when going to find the item?
Items is searched based on item code and item name. There are two methods to search the item :
Example: if you type "In" then you will see all the items with prefix "In" of item name / code.
Example: if you type "flag" then you will see all the items / code containing "flag" word/
You can go to Settings Menu to change searching mode: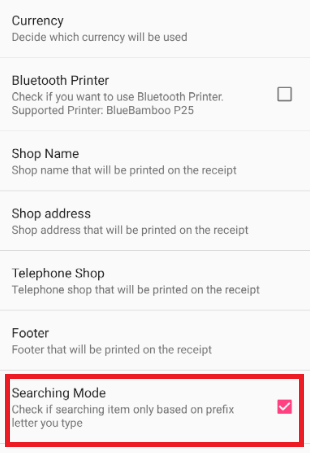 Can I delete transaction ?
Yes you can delete transaction. Stock of goods will be returned as before the transaction. Go to the Transaction Summary. Select the Selling / Buying transaction to be removed.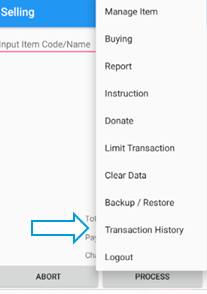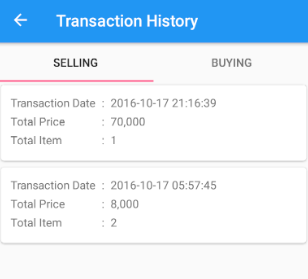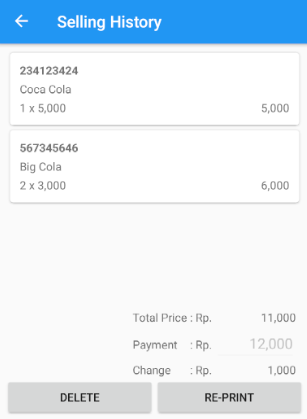 Can I re print the receipe?
Yes, you can re-print the receipe. Go to Transaction History. Then choose which selling / buying transaction that you want to re-print. Make sure you already setup bluetooth printer. To set bluetooth printer you can see video on youtube: https://www.youtube.com/watch?v=7GdwgnjKZzE
Can I add customer name on the receipt ?
To add customer name, go to setting and enable Customer Info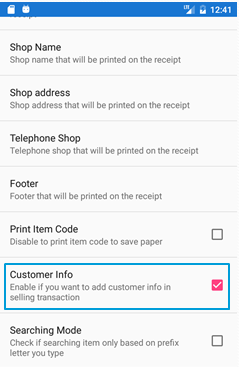 After selling transaction, you will be ask to input customer name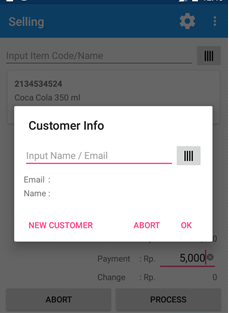 How to manage customer data ?
To manage customer data, go to Manage Customer menu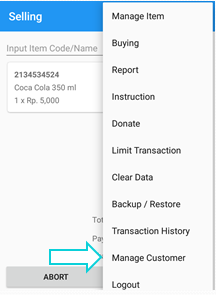 How to send the receipt to customer email ?
To send the receipt to customer email, go to Settings Menu then enable Email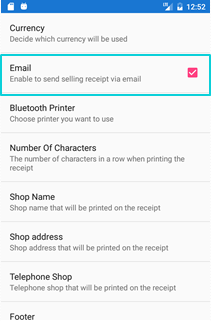 To re-send receipt to email, go to Transaction History, then choose selling transaction which you want to re-send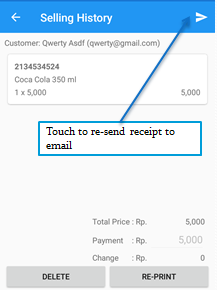 Why do I see other products / items that not belong to me ? How to delete it ?
Those are reload and electric voucher products for Indonesian people. You can delete it by go to Settings then disable Pulsa / PLN.